HOME PRESENT PAST FUTURE US MURALS CONTACT
---
COBALT FINE ART
Who do I think I am?
Fine art by Nina Gomez Gordon, thematic group presentations and alternative space
553 STATE ROAD IN WEST TISBURY, MARTHA'S VINEYARD www.CobaltFineArt.com
---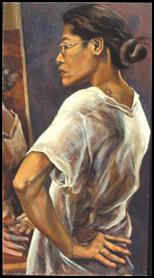 Why Cobalt? Why is the sky blue? The color of the cloudless summer sky is cobalt…
Cobalt is found in silver ore where it was once believed to have been deposited by goblins replacing the silver they had stolen. For artists, cobalt is the more precious…
Cobalt can be transformed by nuclear reactors into radioactive isotopes as a source of gamma rays. It can be used in radiography, treating cancer, or making bombs… recording sensitivity/healing deep hurts/exploding conventions = art
Cobalt Gallery was created in the name of art, a "clean well-lighted place" to just see, exploring ideas and concepts through all kinds of people and media, the past, the present, the future. I miss it, but the journey continues. Art for art's sake.
"Of the colors, blue and green have the greatest emotional range. Sad reds and melancholy yellows are difficult to turn up. Among the ancient elements, blue occurs everywhere: in ice and water, in the flame as purely as the flower, overhead and inside caves, covering fruit and oozing out of clay. Although green enlivens the earth and mixes in the ocean, and we find it, copperish, in fire, green air, green skies, are rare. Gray and brown are widely distributed, but there are no joyful swatches of either, or of any exuberant black, sullen pink, or acquiescent orange. Blue is therefore most suitable as the color of interior life. Whether slick light sharp high bright thin quick sour new and cool or low deep sweet thick dark soft slow smooth heavy old and warm: blue moves easily among them all, and all profoundly qualify our states of feeling." - William Gass
(come see what I see)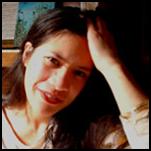 Nina Lisa Maria Perez Gomez Gordon's artist's statement: Ironically, I became fascinated by the beauty of death and disease during the period in my life when I was the most fertile and full of life. After having my first child in college at twenty, I rapidly moved from youth to responsibility. While my children were babies or toddlers, I had little time to work in a chemical-laden studio and channeled my creative energy into gardening. I marveled at germination, was excited by the harvest, but felt great sympathy for the used and dying plants. I am greatly inspired by the sacrifice and experience of last year's crop. Returning to the studio, my paintings celebrated that time after the harvest, when the plants are used up, riddled by disease and pests, useless and beautiful, pure art.
An artist is an editor; I paint to show what and how I see. Present in my paintings is empathy and wonder for the overlooked, unwanted, and simple beauty. My subjects are unique rather than perfect. I celebrate their color, rhythm, geometry, and force.
My plein air paintings convey a sense of a place rather than a specific moment. I return to familiar haunts repeatedly until I am done. They are literally the common ground where artist and viewer meet. Those who have been to the locations recognize the feeling of being there rather than the literal; those who have not been there often feel as if they had. Beginning and ending the painting on location allows me to get to know the place intimately, at different times and weather conditions. I am then able to choose which of my favorite moments to include.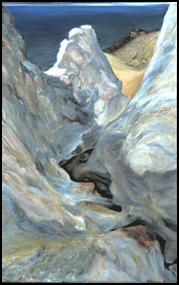 I am greatly impressed with the impact of humans on nature and nature's ability to renew itself. People often search for timelessness, immortality, a way of leaving a mark. Nature is relentless, achieving immortality through change and continuous rebirth. Many of the subjects of my paintings explore the beauty of the dynamic between human beings' persistent attempts to shape, control, or fit into their environment and the overpowering force of the natural world to resist.
Painting oil on canvas, paper, or panels in a representational style bridges historical art tradition with contemporary modern vision. I have been painting the figure and the beauty of Martha's Vineyard for over ten years, and have yet to tire of the shifting light, color, and texture.
I suppose I should say something about my nudes. I find all facets about people challenging in general. Through art I try to figure out this world, and there is beauty in a body stripped down and natural, unmasked. I find that if I look long enough and carefully, there is something special and unique and fascinating about every friend or stranger I draw, whether it's the shape of their eyebrows, the way they position their hands, a curving spine, or a cute butt. Oftentimes a person's personality comes through in their pose and gesture. In my figure drawings and paintings, I try to capture (or set free) a person's essence rather than just a likeness (though I'm great at portraits too). Click here for more nudes.
Education: BA in fine art from Bowdoin College, Brunswick ME, 1994; Sea Education Association, Woods Hole MA and Dalhousie University, Halifax Nova Scotia for oceanography; School of the Art Institute of Chicago IL advanced summer institutes for painting and sculpture; Maine College of Art, Portland ME for sculpture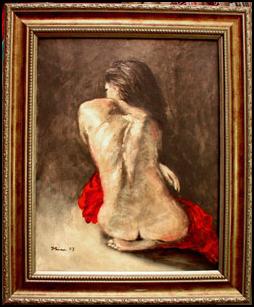 Exhibitions: Kresge Gallery in Brunswick ME; Walker Art Museum in Brunswick ME; Northern Indiana Arts Association Tri-County Arts Exhibition in East Chicago IN(awards include Best of Show, Best Drawing, Outstanding, Award of Distinction, and Honorable Mention), Congressional Arts Caucus 5th District Art Exhibition in Portage IN(awards include 1st and 2nd place); Martha's Vineyard Agricultural Society art show in West Tisbury MA(awards include 1st places, 2nd , and 3rd in oil); Massachusetts Coalition for the Homeless in Boston MA; Friends of Family Planning annual art show in West Tisbury MA; Chicamoo Gallery in WT MA; Waterfront Gallery in Vineyard Haven MA; Dragonfly Gallery in Oak Bluffs MA; Firehouse Gallery in Oak Bluffs MA; Featherstone Meetinghouse for the Arts in Oak Bluffs MA; (x) Gallery on Nantucket MA; Cobalt Gallery(of course); Woodward Gallery in Soho NY.
Publications: The Quill, literary magazine published by Bowdoin College, art and poetry, also served as art editor and editor-in-chief; Womyn's Words, literary magazine published by Bowdoin Women's Association, art and poetry; No Cats No Steeples, photography journal; Martha's Minions, art, illustrations, and prose.
Arts Employment and Experience: various graphic design – posters, program covers, yearbook design and editing; set designer and painter for Vineyard Playhouse in Vineyard Haven and WordMagic in Aquinnah MA; taught printmaking to home-schooled teens; portrait commissions in graphite and oil; etching commissions; as Martha's Vineyard Mural Company with Mitch Gordon executed murals and treatments in private homes and public spaces; co-organized West Tisbury Artists Open Studio Tour; curated group shows at Cobalt Gallery(of course), installation commission and curated group art presentations for Martha's Vineyard Independent Film Festival.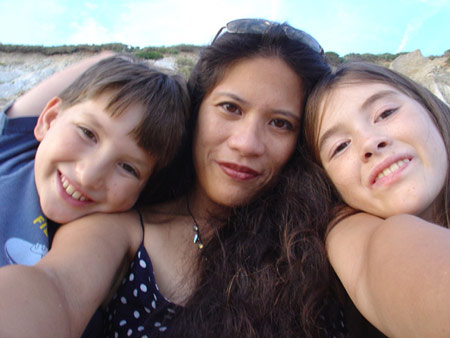 Nina with children Benjamin Caleb and Cerina Isabel Gordon, August 2005