HOME PRESENT PAST FUTURE US MURALS CONTACT
---
  COBALT FINE ART
  Inland – farm, field and flower 2004
   Fine art by Nina Gomez Gordon, thematic group presentations and alternative space
553 STATE ROAD IN WEST TISBURY, MARTHA'S VINEYARD   www.CobaltFineArt.com
---
Larger images and details of oil paintings can be e-mailed by request. Commissions accepted for paintings based on images shown here or your own photos.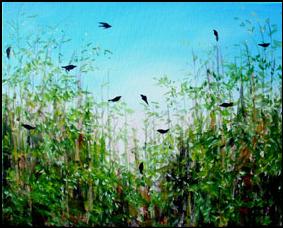 Ways to See a Blackbird… Fortunately for me, many people are as fond of my blackbirds perched in bamboo as I am. These paintings are sold but I always paint more. I admire the birds' tenacity hanging onto bamboo bending in the wind like the black notes on a staff. Flexibility and strength contrast with the delicate marks of the foliage. All are 16"x20" oil on canvas.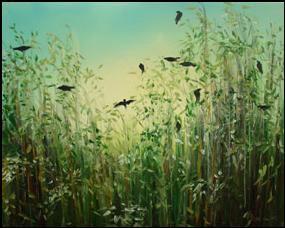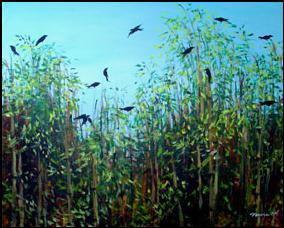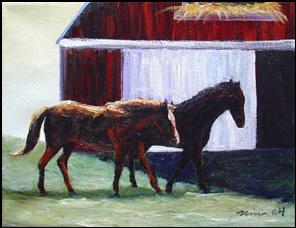 Left: Trotting, 16"x20" oil on canvas
Right: Barn, 11"x14" oil on canvas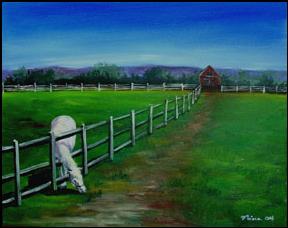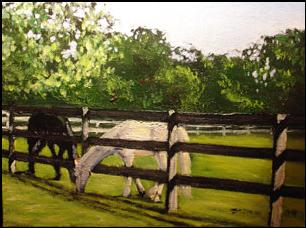 Left: Greener Grass, 16"x20" oil on canvas
Right: Grazing, 9"x12" oil on canvas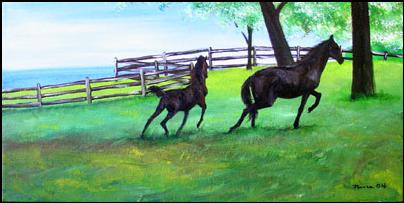 Left: Horse Farm, 16"x20" oil on canvas
Right: Mare and Foal, 12"x24" oil on canvas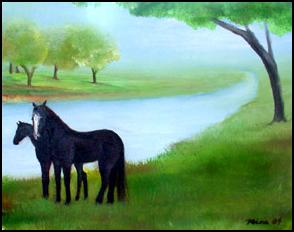 Left: Sunset Grazing, 30"x40" oil on canvas
Right: Horses, Misty Stream, 16"x20" oil on canvas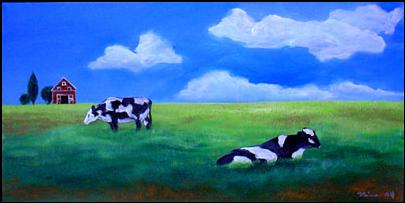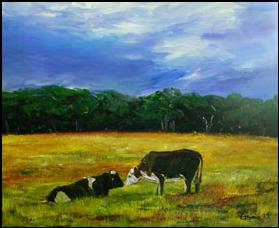 Left: Folk Art Holsteins, 12"x24" oil on canvas
Right: Nip n' Tuck, 16"x20" oil on canvas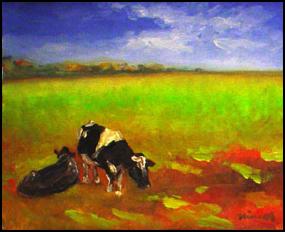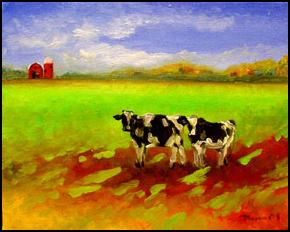 Left: Cows in Autumn Field, 8"x10" oil on canvas
Right: Cows and Barn, 8"x10" oil on canvas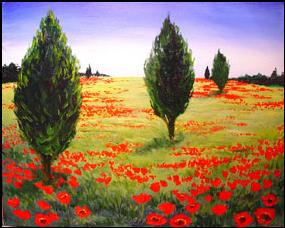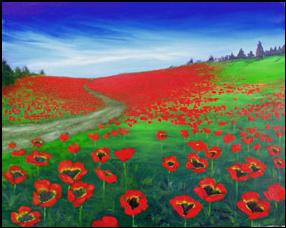 Left: Cedars and Poppies, 16"x20" oil on canvas
Right: Red Hill, 16"x20" oil on canvas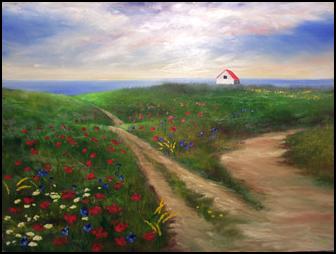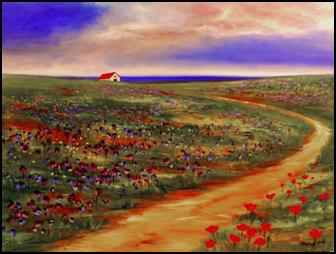 Fork and Wildflower Field, each 30"x40" oil on canvas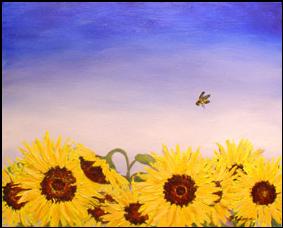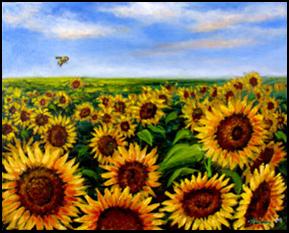 Left: Honeybee, 16"x20" oil on canvas
Right: Sunflower Field, 16"x20" oil on canvas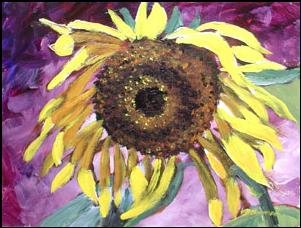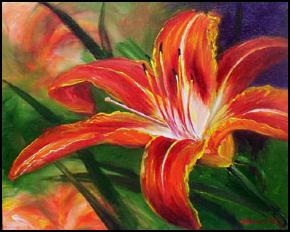 Left: Sunflower, 9"x12" oil on masonite
Right: Daylily, 16"x20" oil on canvas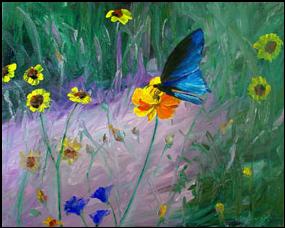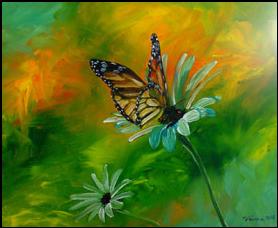 Left: Calendula, , 16"x20" oil on canvas
Rigth: Monarch, 16"x20" oil on canvas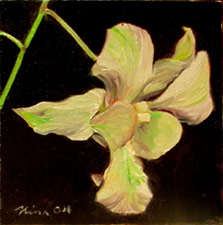 White Orchids, 1 and 2, 6"x6" oil on canvas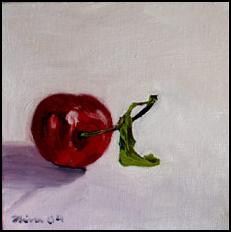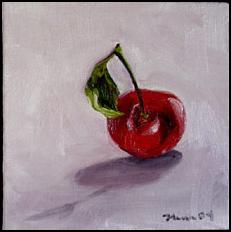 Wild Cherries, 1 and 2, 6"x6" oil on canvas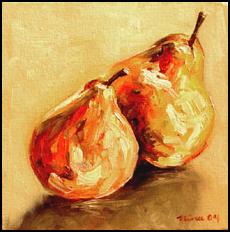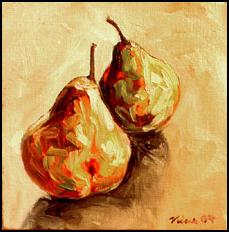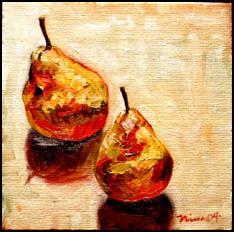 Ripe Pears, each 6"x6" oil on canvas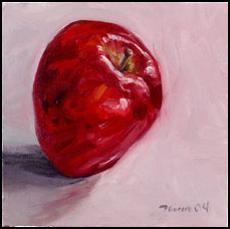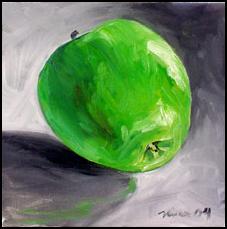 Red Delicious, Granny Smith, each 6"x6" oil on canvas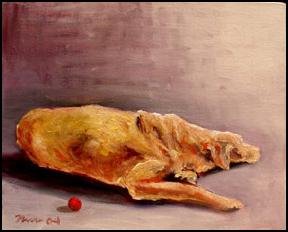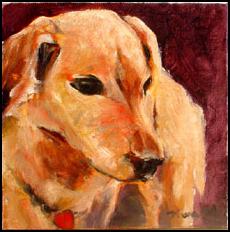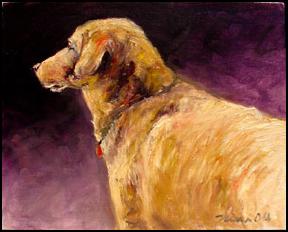 Max the Dog, 8"x10", 6"x6", and 8"x10" oil on canvas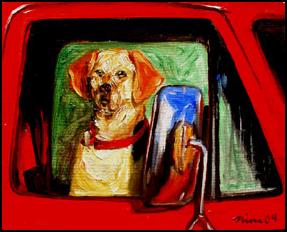 Patient Dog in Truck, 8"x10" oil on canvas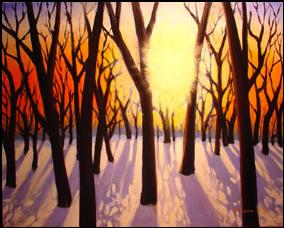 Sunlight Through Trees, 16"x20" oil on canvas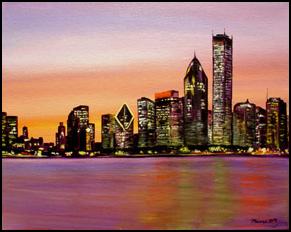 Sweet Home Chicago Skyline, each 16"x20" oil on canvas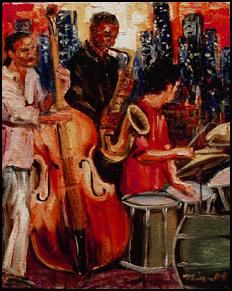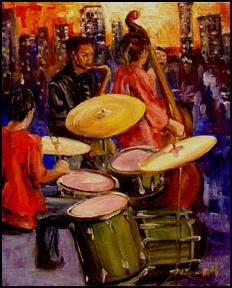 Left: Bass in your Face, 8"x10" oil on canvas
Right: Jazz Trio, 8"x10" oil on canvas
HOME PRESENT PAST FUTURE US MURALS CONTACT