HOME PRESENT PAST FUTURE US MURALS CONTACT
---
  COBALT FINE ART
  Peace and light
   Group show of island artists curated by Nina Gomez Gordon for the third Martha's Vineyard Independent Film Festival (MVIFF), March 2oo3
553 STATE ROAD IN WEST TISBURY, MARTHA'S VINEYARD   www.CobaltFineArt.com
---
"We shall find peace. We shall hear the Angels, we shall see the sky sparkling with Diamonds." – Anton Chekhov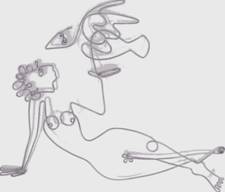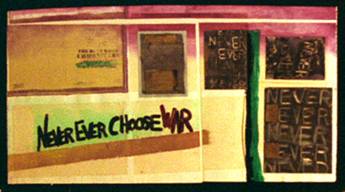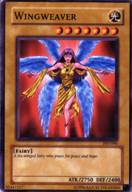 Top: Steve Lohman; Wendy Weldon mixed media, Never Ever Choose War; Cerina and Ben Gordon found object, Wingweaver "A six-winged fairy who prays for peace and hope"
Reception hall for MVIFF works by Barney Zeitz forged and welded stainless steel vase; Cindy Kane mixed media on wood Divided; Barney Zeitz forged and welded steel War Requiem 50th Anniversary of Hiroshima; and Rose Treat seaweed collage Lysistrata
Below left, top to bottom: Nina Gomez Gordon oil on canvas Floating; Rose Treat seaweed collage Celebration; and Tal Levy
Below right, top to bottom: Patrick Lindsey mixed media A City Block for the Poor and Homeless; and Linda Ziegler mixed media Seeking Balance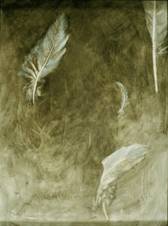 Wage Peace
by Mary Oliver
Wage peace with your breath.
Breathe in firemen and rubble,
breathe out whole buildings
and flocks of redwing blackbirds.
Breathe in terrorists and breathe out sleeping children
and freshly mown fields.
Breathe in confusion and breathe out maple trees.
Breathe in the fallen
and breathe out lifelong friendships intact.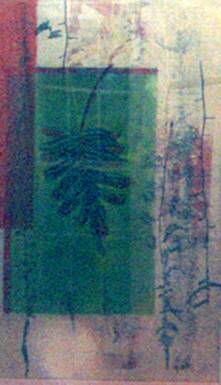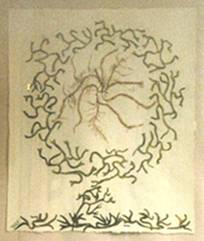 Wage peace with your listening:
hearing sirens, pray loud.
Remember your tools:
flower seeds, clothes pins, clean rivers.
Make soup
Play music, learn the word for thank you in three languages.
Learn to knit, and make a hat.

Think of chaos as dancing raspberries
imagine grief as the out breath of beauty
of the gesture of fish.
Swim for the other side.
Wage peace.


Never has the world seemed so fresh and precious.
Have a cup of tea and rejoice.
Act as if armistice has already arrived.
Don't wait another minute.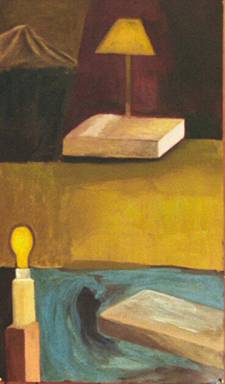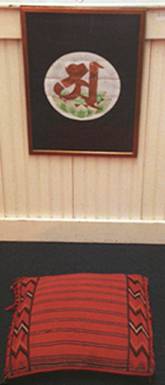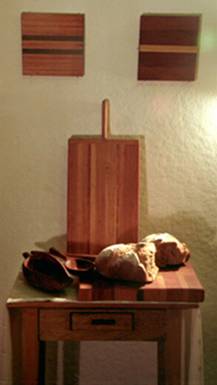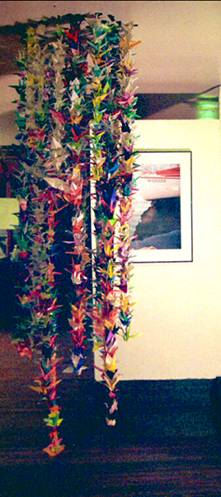 Participating artists: Cindy Kane, Tal Levy, Rose Treat, Linda Ziegler, Louisa Gould, Steve Lohman, Daniel W. Smith, Marcia Smilack, Barney Zeitz, Wendy Weldon, Shio Kusaka, Virginia Besse, Thaw Malin, Melissa Breese, Patrick Lindsey, Thomas Bena, Nina Gomez Gordon, and the 6th through 8th grade art classes of West Tisbury and Oak Bluffs Elementary Schools.
Left to right: Wendy Weldon The Stark Reality; Melissa Breese meditation scroll; Thomas Bena woodwork, installation by Nina Gomez Gordon and Melissa Breese Breaking Bread; sen tsuru (1000 cranes), Eastern symbols of peace, assembled by students in grades 6-8 at the West Tisbury and Oak Bluffs Schools, installed by art teacher, Melissa Breese; and Louisa Gould photograph Wonder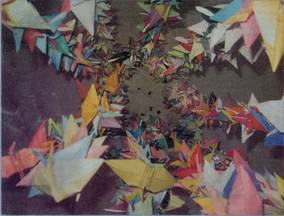 HOME PRESENT PAST FUTURE US MURALS CONTACT