HOME PRESENT PAST FUTURE US MURALS CONTACT
---
COBALT FINE ART
interplay
Group show of island artists curated by Nina Gomez Gordon for the 4th annual Martha's Vineyard Independent Film Festival (MVIFF), April 2004
553 STATE ROAD IN WEST TISBURY, MARTHA'S VINEYARD www.CobaltFineArt.com
---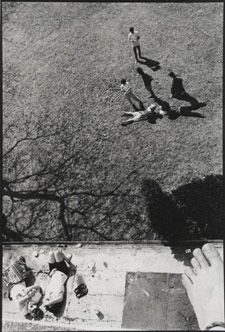 Human relationships are complex, whether the relationship is romantic, family, friendship, business, or strangers meeting on the street. People are social beings with many different and subtle ways of communicating. Every action sparks a reaction, an interplay, and this spark is the energy that can make a difference in a person's life, in the community, in the world, if we choose.
One extreme of human interaction is war. War runs the gamut of conflicting human emotions and experience, life and death, rights and wrongs, confusion, hostility, hurt, on a monumental scale. Much of history documents the changes brought about by war, for better or worse. Most people prefer times of peace. Island photographer and writer Marcia Smilack mentioned that in her opinion, the opposite of war is not necessarily peace, but play. In times of peace we are able to play, we are able to compete without extreme conflict, we can be amused, jest, risk, flirt, pretend, perform, create. Play is freedom within mutually agreed upon limits, though rules can bend and limits are pushed. We can examine and explore each other, ourselves, and our environment.
For this art show, artists were asked to submit works that relate to positive human interaction. Many thanks to participation artists including Marcia Smilack, Steve Lohman, Chris Dreyer, Bill McLane, Margot Datz, Andrew Fischer, Melissa Breese, Richard Limber, Jennifer Christy, Elliott Vecchia, Althea Lowell, MJ Bindu Delekta, Nathan Belain, Christine Ferrone, Joan Walsh, Basia Jaworska, Rose Treat, Wendy Weldon, Tom Carberry, Barney Zeitz, and Nina Gomez Gordon.
Inter-play, photograph by Nina Gomez Gordon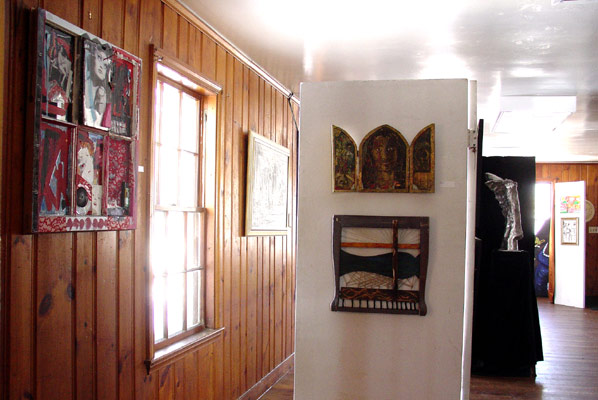 Left to right: Valentine, mixed media collage by Althea Lowell; mixed media triptych by Melissa Breese; Origins, mixed media wall sculpture by Nina Gomez Gordon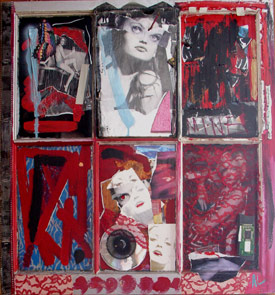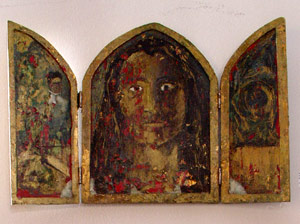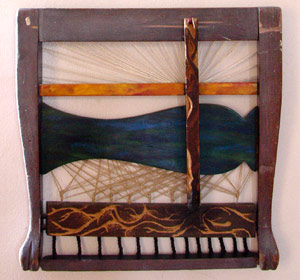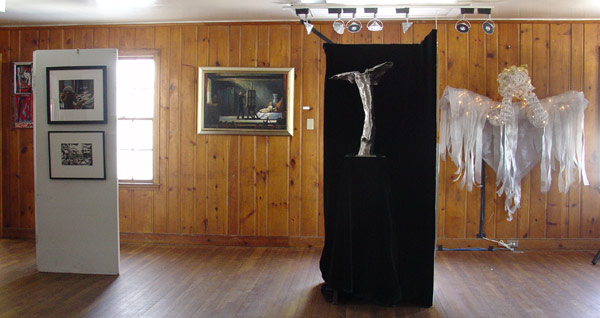 Left to right: photographs by Marcia Smilack; Down in Front! oil on canvas by William N. McLane; Heaven and Earth, stainless steel sculpture by Barney Zeitz; and Mind in Flight, mixed media sculpture by Christine Ferrone.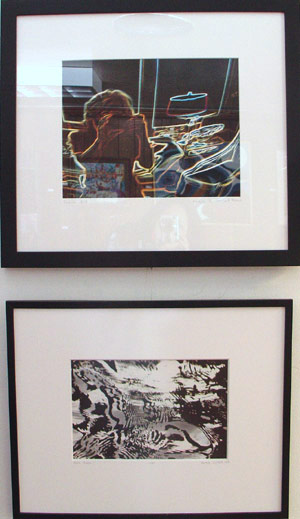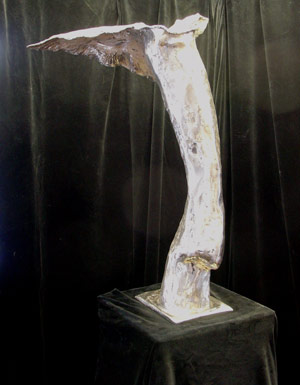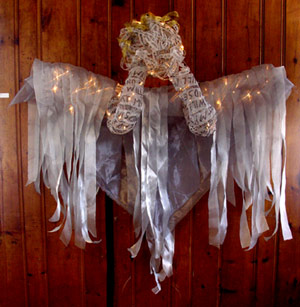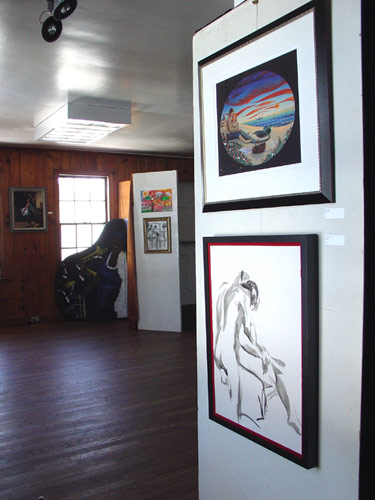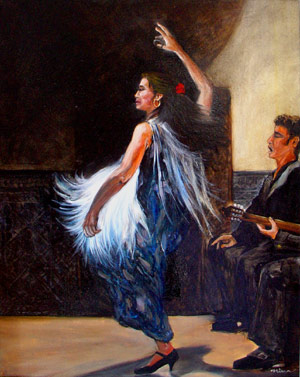 Left to right in room: Escuche la musica, oil on canvas by Nina Gomez Gordon; Jazz Singer, oil on baby grand piano lid by Basia Jaworska; Skateboarders, oil on paper by Elliott Vecchia; charcoal sketch by Barney Zeitz; Anniversary, print by Margot Datz; Red Heart, sumi-e inkwash drawing by Nina Gomez Gordon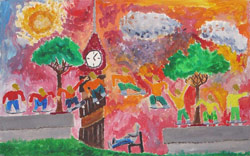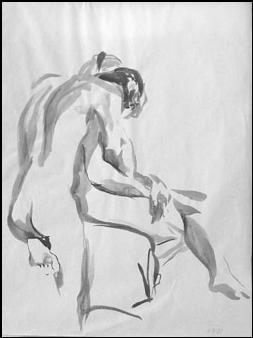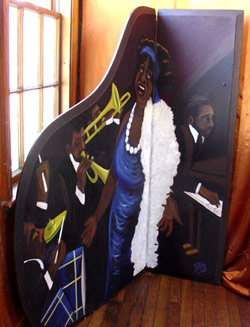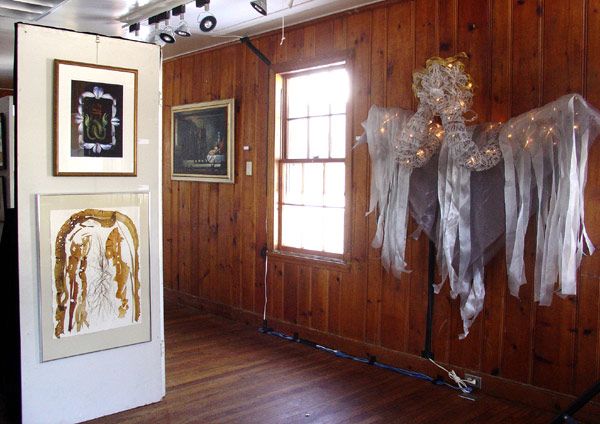 Far left: Merlovers, print by Margot Datz; Wedding Ceremony, seaweed collage by Rose Treat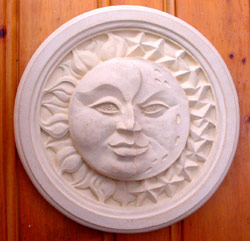 Sun/Moon, concrete indoor/outdoor sculpture by Tom Carberry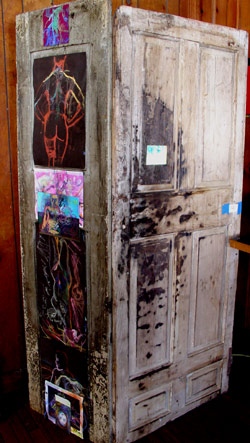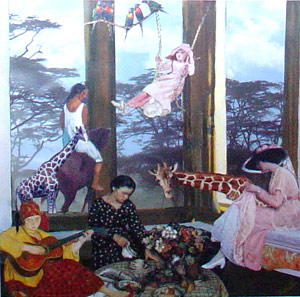 Left: mixed media sculpture by Richard Limber
Top: Swing into Spring, collage by Chris Dreyer
Bottom: Play, box construction by Chris Dreyer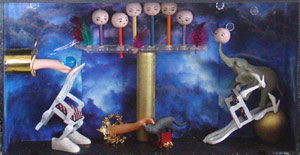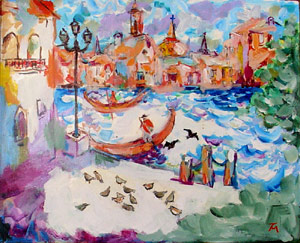 Venice, oil on board by Tom Maley
HOME PRESENT PAST FUTURE US MURALS CONTACT