HOME PRESENT PAST FUTURE US MURALS CONTACT
---
  COBALT FINE ART
  Fresh paint invitational
   Group show of island artists 3-day painting marathon, May 24 to June 23, 2002
553 STATE ROAD IN WEST TISBURY, MARTHA'S VINEYARD   www.CobaltFineArt.com
---
"Fresh Paint" Benefits Affordable Housing by Laura D. Roosevelt
from The Martha's Vineyard Times, May 30, 2002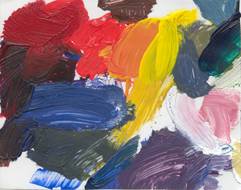 Last weekend, a "happening" happened in West Tisbury. For three days and nights, the Cobalt Gallery opened its doors and provided free canvasses and paints to artists who wanted to come in and create new work in the company of other artists.
Entitled "Fresh Paint Invitational," the happening was conceived as an act of renewal in response to the events of last September 11.
"I thought, what can we here on Martha's Vineyard do?" says Nina Gomez Gordon, a painter who owns the Cobalt Gallery with her painter husband Mitch Gordon. "We wanted to focus on rebirth and hope for the future, especially now in the spring when everything is starting to grow again in the natural world."
To provide inspiration and a unifying theme for the paintings that would be created over the weekend, the Gordons put together a huge, multi-faceted still-life in the center of the gallery. Incorporating items that symbolized renewal, it consisted of live plants, vases of flowers, vessels filled with water, and sprouting seeds. There were bleached whales' bones, reminding us that death is a part of the cycle of rebirth, and feathers floating in the air, suggesting flight, life, and hope.
"We set it all against a yellow backdrop," says Ms. Gordon, "because yellow is a color associated with remembrance."
Eight other artists participated in the event, creating a total of 18 paintings that will be on display in the gallery through June 23. Tom McQuade, an abstract painter who lives in Oak Bluffs, says he came to the event in order to work in the company of other artists.
"It's so much more isolating being a painter here on Martha's Vineyard than on the mainland," he says. "I live for opportunities like this."
Nina Gordon echoed this sentiment: "We all spent the whole winter alone in our studios, so I wanted us to come together and feed off each other's energy. It can be very invigorating."
Ms. Gordon adds that painting in front of other people can enhance the quality of the work. "It's like having a recital," she says. "You get the energy of the performance factor."
Tom McQuade concurs. "There's something extremely sincere about painting in front of the public or another artist. There's a vulnerability and a nakedness that goes along with it that I think is healthy."
There will be a silent auction of the works created at the event, with bids accepted through June 2. A portion of the proceeds from sales will go to the artists; the remainder will be donated to Houses on the Move. The Gordons explain they chose this organization because its mission of helping Islanders build new lives in homes of their own seemed congruent with the show's theme of renewal.
The Gordons hope to host another, similar event in the future. "This is the most fun I've had painting in a long time," says Mitch Gordon. "We have to do this again."
---
Works by Nina Gomez Gordon: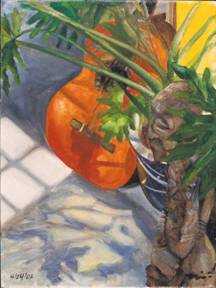 Protea, 24"x18" oil on canvas Music, 10"x8" oil on canvas Leave, 12"x9" oil on canvas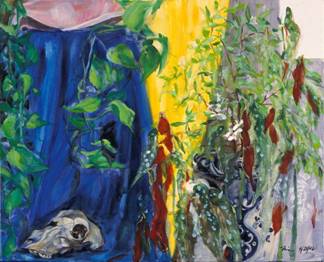 Dawn to Dark, 24"x30" oil on canvas
Participating artists: Marston Clough, Geoff Flash, Mitch Gordon, Nina Gomez Gordon, Basia Jaworska, Doris Lubell, Tom McQuade, James Masek, Maggie Papp, Gabrielle Whitcombe
HOME PRESENT PAST FUTURE US MURALS CONTACT