HOME PRESENT PAST FUTURE US MURALS CONTACT
---
  COBALT FINE ART
  Sound + vision
   Art installation for the Martha's Vineyard Independent Film Festival (MVIFF), April 2002
553 STATE ROAD IN WEST TISBURY, MARTHA'S VINEYARD   www.CobaltFineArt.com
---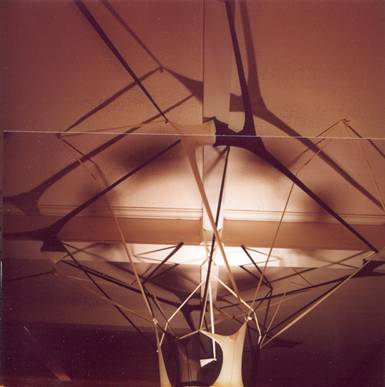 Nina Gomez Gordon, Mitch Gordon, Taylor Rome, and Jennifer Bolcik collaborated to install Sound+Vision. After a series of discussions with filmmakers and festival committee, the artists executed the installation at First Baptist Parish House in Vineyard Haven, the reception hall during the Martha's Vineyard Independent Film Festival in April of 2002. The MVIFF was produced and organized by Thomas Bena of Sea the World Productions. Pantyhose were chosen as the medium since it is intimate, close to the skin, voyeuristically sharing and concealing private parts. The black and white pantyhose web symbolized that though we may become enmeshed in troubles, we are also all connected. Tar paper inscribed with quotes from silent films blacked out the windows' natural light to emulate the theatre. Words within the quotes were colored to emphasize the idea that though we may all receive the same information, our own experiences and thoughts resonate to give the message personal meaning. A central halogen light illuminated the web creating geometric shapes and blurring the line between positive and negative, light and shadow. Sound+Vision symbolized film distilled to its basics of light, form, message, and meaning.
James Warren compiled a soundtrack from local island musicians and composers. Taylor Rome and Jennifer Bolcik sculpted Popcorn Man out of chicken wire and white Christmas lights, with Rod Welles's 35mm film Peep Show fleshing him out, and installed it in the hall. Films create characters, in this case, literally. Popcorn Man became both character and audience.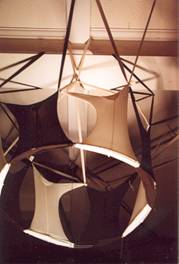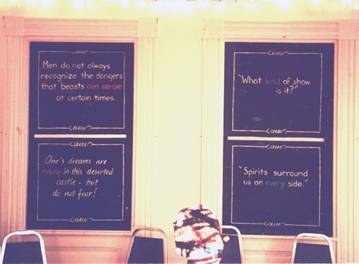 Silent film quotes read:
Men do not always recognize the dangers that beasts can sense at certain times. / One's dreams are heavy in this deserted castle – but do not fear!
"What kind of show is it?" / "Spirits surround us on every side."
| | | | | | |
| --- | --- | --- | --- | --- | --- |
| "Not so hasty, my young friend. No one escapes his destiny." | "Wait!" | "You will have a marvelous journey. What matter if it costs you a bit of pain – or even a little blood?" | What she and I have experienced is yet more remarkable than the story you have told me. I will tell you." | And when he had crossed the bridge, the phantoms came to meet him. | When shadows lay darkest… |
| "Leave at once, my young friend. Have a quick journey into the land of phantoms." | "The circle is closing in – " | Blood is life! Blood is life!!!!" | Temptation. | "I must go to him. He is approaching!!!" | The End |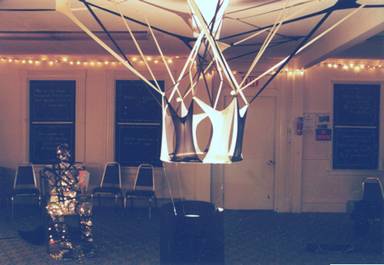 Popcorn Man spectates in First Baptist Parish House, Vineyard Haven.
HOME PRESENT PAST FUTURE US MURALS CONTACT